Webshop
Exclusief topSlijter
Aanbieding
Famous Grouse Whisky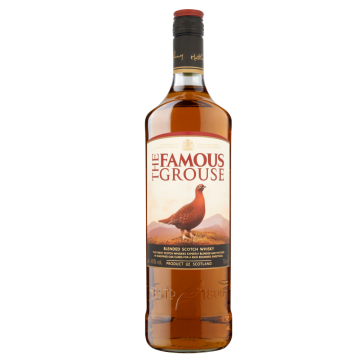 In 1896 maakte Matthew Gloag, een kruidenier en wijnverkoper uit Perthshire, zijn eerste whisky. Onconventioneel vanaf het begin vernoemde Gloag zijn whisky liever naar de iconische Red Grouse, de Schotse Sneeuwhoen, dan zichzelf. The Grouse Brand was geboren en sindsdien siert de inheemse vogel, die uitsluitend in Schotland voorkomt, het etiket. Al ruim 200 jaar blijft de distilleerderij trouw aan lokale tradities en is het nog altijd gevestigd in Perthsire, in het zuiden van de Schotse Hooglanden, waar het allemaal begon. Trouw wordt de door Matthew Gloag ingestelde strenge selectieprocedure van ingrediënten gevolgd. Alleen whisky's die al enkele jaren in eiken vaten hebben gerust worden gebruikt, en na het blenden wordt de whisky nog eens 6 maanden extra op vaten gelegd waardoor er zachtere en elegantere blend ontstaat. Vandaag de dag vinden er bijna 6000 kwaliteitscontroles plaats voordat een fles Grouse verkocht wordt. Het succes en de populariteit van de The Grouse Brand, deed Gloag in 1905 besluiten om het woord 'famous' toe te voegen. Terecht, want The Famous Grouse is nog altijd de bestverkochte whisky in Schotland.
Add to shopping cart
Product Information
Origin

Scotland

Volume

100 CL

Alc.Vol.

40% vol

Type whisky

Blended

Type of taste Whisky

Medium & Grain

Taste

zacht en rond met een moutige zoetheid, vanille, vers en gedroogd fruit met zachte kruiden

Finish

medium lang, zacht soepel met een herkenbaar malt karakter

Pairing

uiteraard excellent om puur te drinken of in de mix met cola, maar de whisky gaat ook erg goed samen met een goed gegrild stuk vlees met gesauteerde champignons of kruidige rijst.