Webshop
Exclusief topSlijter
Aanbieding
Ketel 1 Gerijpte Jenever Matuur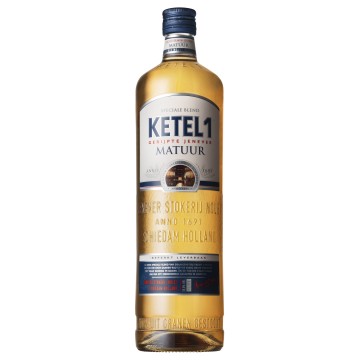 Als u iets proeft in KETEL 1 MATUUR dan is het wel geduld. Het geduld van de meesterstoker om deze speciale blend van jonge en gerijpte graanjenever te vervolmaken. De rust die we onze granen-eau-de-vie gunden om op eikenhout tot volle wasdom te komen. De levenservaring die nodig is om dit eigenzinnige karakter te kunnen waarderen. Dat is het verhaal van het merk KETEL 1 MATUUR. Een ambachtelijke jenever die vanzelfsprekend niet onbeperkt verkrijgbaar is. Nu is het aan u om ervan te genieten. Neemt u daar gerust de tijd voor.
Add to shopping cart
Product Information
Origin

The Netherlands

Volume

50 CL

Alc.Vol.

38.4% vol

Type jenever

Overig

Taste

zijdezacht met hinten van anijs, citroen en vanille

Finish

zacht

Serve

Ketel1 Dutch Coffee

Speciale blend van gelagerde granen-eau-de-vie. De bijzondere combinatie van KETEL1 Matuur en sterke hete koffie met koele room is een ware smaaksensatie. Een échte Hollandse koffie met een eigenzinnig karakter.

Verwarm een hittebestendig glas voor met heet water. Schep twee theelepels bruine suiker in het glas. Voeg 35 ml KETEL1 Matuur toe. Schenk er sterke, hete koffie bij. Roer een paar keer om. Laat de slagroom voorzichtig op de koffie glijden tot het glas precies gevuld is.