Webshop
Exclusief topSlijter
Aanbieding
Copper Dog Scotch Whisky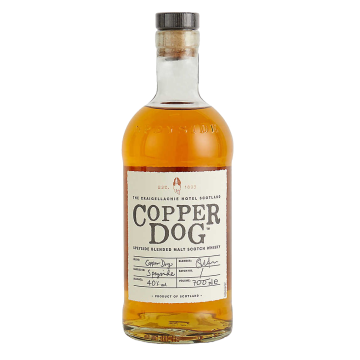 Copper Dog is een whisky die is ontstaan door het combineren van acht Speyside single malts. Deze whisky's worden geleverd door de grootste Schotse whisky producent Diageo. De naam Copper Dog is gebaseerd op een kleine tube met daarop een kurk die medewerkers vroeger gebruikte om whisky mee naar huis te smokkelen. De whisky's zijn gerijpt in refill American en European oak casks, first fill Bourbon casks en rejuvenated (verjongde) casks. Hierna zijn de whisky's bij elkaar gevoegd. Copper Dog is ontstaan uit de gedachte dat mensen whisky moeten drinken zoals zij dat zelf willen. Met die gedachte is er een whisky ontstaan die zowel puur heerlijk is, maar ook goed gebruikt kan worden bij het maken van mix-drankjes en cocktails.
Add to shopping cart
Product Information
Origin

Scotland

Region

Speyside

Volume

70 CL

Alc.Vol.

40% vol

Type whisky

Blended Malt

Type of taste Whisky

Mild & Soft

Taste

rijke smaak met tonen van toffee, appel, bessen, citrus en kruiden

Finish

subtiel met een pittige afdronk.